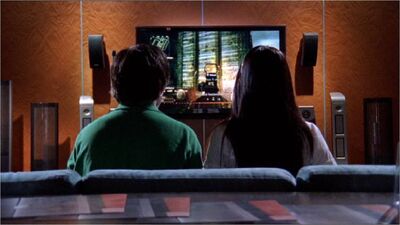 Call of Duty 4: Modern Warfare is a real-life FPS (First Person Shooter) developed for PC, Xbox 360 and PS3 and released in 2007.
It is confirmed on a number of occassions to be Chuck and Morgan's favorite video game. It is the cause of Chuck's bandaged fingers at the beginning of "Chuck Versus the Intersect", and, in "Chuck Versus the First Date", he uses Morgan's elaborate plans for the Compound multiplayer map to deceive Mr. Colt. Gameplay can also be seen on the televisions in Buy More during Season One. In Chuck vs. the Crown Vic, Chuck reveals explicitly that Call of Duty is his favorite game, with roulette coming in second.
In "Chuck vs. the First Date", Morgan claims that his plan involves: "23 infantry troopers, 16 snipers, 7 heavy gunners, 4 demolition experts and enough ammunition to orbit Arnold Schwarzenegger." However, this is not possible on the console versions in real life, as Call of Duty 4 only supports a maximum of 8 players per team. It is possible on the PC as there can be 128 players on a server depending on the server's settings.
Ad blocker interference detected!
Wikia is a free-to-use site that makes money from advertising. We have a modified experience for viewers using ad blockers

Wikia is not accessible if you've made further modifications. Remove the custom ad blocker rule(s) and the page will load as expected.