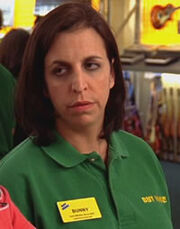 Bunny (Hope Shapiro) is a Green Shirt at Buy More. Bunny made her speaking debut in Chuck Versus the Cougars, when Lester, who became assistant manager at the time, has the bright idea to cut all the prices on stock to sell more while Big Mike is on a fishing trip. She has the traditional level of contempt for management and customers alike.

Ad blocker interference detected!
Wikia is a free-to-use site that makes money from advertising. We have a modified experience for viewers using ad blockers

Wikia is not accessible if you've made further modifications. Remove the custom ad blocker rule(s) and the page will load as expected.