Brody is a CIA agent who was chosen as a candidate to become the next Intersect agent. He appears in "Chuck Versus the Muuurder".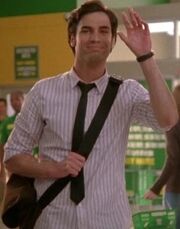 Brody shares a very similar personality and interests with Chuck. As described by Chuck, Brody is "nerdy, emotional, into his family and friends, disarmingly attractive".
Brody was Chuck's first choice to become the new Intersect, but he was killed by Damien (another Intersect candidate) just after he was texted by Chuck, when he discovered Damien planting explosives in Castle.
Ad blocker interference detected!
Wikia is a free-to-use site that makes money from advertising. We have a modified experience for viewers using ad blockers

Wikia is not accessible if you've made further modifications. Remove the custom ad blocker rule(s) and the page will load as expected.