Message: This article is written from a real-world point of view.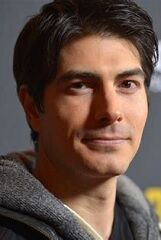 Brandon Routh (b. October 9, 1979) is an American actor and a former fashion model.
He grew up in Iowa before moving to Los Angeles to pursue an acting career, and subsequently appeared on several television series throughout the early 2000s.
Early life
Edit
Brandon went to University of Iowa for a year, with the ambition of becoming a writer. While studying, he modeled and acted in order to earn his tuition fee.
Routh has said he was often told that he has a physical resemblance to Christopher Reeve, who previously portrayed Superman. His former manager signed him on as Superman for his resemblance. He believed that Brandon would star as Superman if there was to be another film.
He is best known to this wikia for portraying Daniel Shaw.
Brandon portrays Superman in Superman Returns, whereas Ryan McPartlin had previously auditioned for that role in the movie. Adam Baldwin voiced Superman in Superman: Doomsday and DC Universe Online. Matthew Bomer portrayed Superman in a Toyota commercial and voiced him in Superman: Unbound.
Zachary Levi's character, Chuck, has referenced Brandon as Superman. When talking to Kristin Kreuk's character Hannah, he mentions Shaw as a "super man-ey type" for Sarah.
Shaw is seen quite a few time sporting the trademark signature glasses of Clark Kent in certain episodes.
A scene in "Chuck vs. the Santa Suit" references Brandon Routh as Superman when Shaw mentions that he was "practically able to catch a bullet with [his] teeth".
Brandon has since returned to the superhero genre, playing Ray Palmer, the Atom, on the CW's Arrow and DC's Legends of Tomorrow. This precludes his returning to the Supergirl series as Superman.
External links
Edit