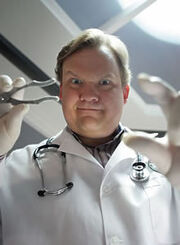 Brad White (Andy Richter), born June 21, 1966 in Wallace, GA, was one of several Fulcrum operatives placed in the Meadow Branch suburban development as part of the project to develop the Fulcrum Intersect. As part of his cover, he befriended Chuck and Sarah (who were undercover as a young married couple while investigating the neighbourhood under Beckman's orders) intending to use them in the Intersect experiments. He is a former conman. He graduated from Brigham Young University with a degree in psychology. He holds a master's degree in instructional design and development from Florida State University, and he earned a doctorate in instructional systems from Florida State University. He joined Fulcrum in 1997.
Brad revealed that Fulcrum chose to build its own Intersect after the government abandoned the project, expressing disgust with their decision to rely on Cold War-era counter-intelligence techniques. He was killed when Chuck signalled Casey to activate the Fulcrum Intersect, as his brain couldn't handle the vast amount of data. Later, his grave is dug up by an MI-6 agent to retrieve information on the Fulcrum Intersect.

Ad blocker interference detected!
Wikia is a free-to-use site that makes money from advertising. We have a modified experience for viewers using ad blockers

Wikia is not accessible if you've made further modifications. Remove the custom ad blocker rule(s) and the page will load as expected.