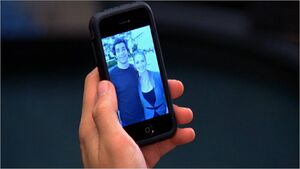 The Apple iPhone is a line of touch screen, internet and multimedia enabled smarphones produced by Apple Incorporated since 2007. The iPhone has various functions, including a camera, portable media player, internet browser (with wi-fi, and 3G on newer models), email and the ability to send and receive calls and messages. It is an example of product placement in Chuck. It is the mobile phone of choice for both Sarah and Chuck by the end of Season One.
Ad blocker interference detected!
Wikia is a free-to-use site that makes money from advertising. We have a modified experience for viewers using ad blockers

Wikia is not accessible if you've made further modifications. Remove the custom ad blocker rule(s) and the page will load as expected.