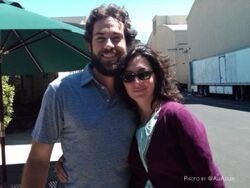 Allison Beth Adler (born May 30, 1967) is an American producer and writer of film and television from California. She is best known to the site for being one of the co-executive producers of Chuck, involved in over 43 episodes of Chuck before leaving in May 2010 to work on the ABC series, No Ordinary Family. Adler has previously worked on Family Guy, Still Standing, Commander in Chief, and Emily's Reasons Why Not.
Since 2002, she has been in a relationship with actress Sara Gilbert (remembered by many people for playing middle child Darlene on Roseanne) with whom she has a son, Levi Hank, born in October 2004, and a daughter, Sawyer, born on August 2, 2007. Adler is the birth mother of Levi and Gilbert is the birth mother of Sawyer.
External links
Edit
Ad blocker interference detected!
Wikia is a free-to-use site that makes money from advertising. We have a modified experience for viewers using ad blockers

Wikia is not accessible if you've made further modifications. Remove the custom ad blocker rule(s) and the page will load as expected.